About the Department
---
The department is one of the pioneer department since the commencement of the C. G. Patel Institute of Technology in 2009. The department has well qualified and fully dedicated faculty members engaged in teaching with the aim of achieving excellence in various fields. The Department actively promotes curriculum development activity by updating existing courses, developing new courses and preparing resource material for teaching. Industry Interaction and academic exchanges with emphasis on R&D are an integral characteristic of our department. The department offers the Diploma in Civil Engineering, Under Graduate program B.Tech in Civil Engineering and Post Graduate program M.Tech in Structural Engineering, Soil Mechanics and Foundation Engineering and Environmental Engineering. Apart from these, the department also offers Doctoral program in Civil Engineering.
Vision
---
To be recognized as a prominent center for outcome based technical education and to ensure the overall development of the students who become ethically strong and can meet the dynamic needs of the global society.
Mission
---
1.To instill the students with strong fundamental concepts, analytical capability, problem solving skills for sustainable solutions ensuring technical proficiency.
2.To develop a culture of research and entrepreneurship by imparting technical and management skills to students that augurs well for their career growth and professional development by bridging the gap between industry and academia through intensive training and internships for students.
3. To nurture morally and ethically strong engineers who are responsive to the changing environment and contribute to the development of the nation and society at large.
PEOs
---
1.Demonstrate proficiency in applying fundamental mathematical, scientific and engineering principles in identifying, formulating, analyzing and solving civil engineering problems.
2.Continue advance learning through professional activities and training and take up higher education, engage in research and development in the field of civil engineering.
3.Grow professionally in their careers through continued development of technical and management skills, achievement of qualified licensure, and assumption of roles and responsibility in specialized services.
4.Cater to the needs of the society through their strong morals and ethics cater to the needs of the society.
5. Develop into competent professionals who will thrive to pursue life-long learning to fulfill their goals.
Head of Department
---
Dr. Manoj Gundalia
HoD, Civil Department, CGPIT.
+91-9909461142
manoj.gundalia@utu.ac.in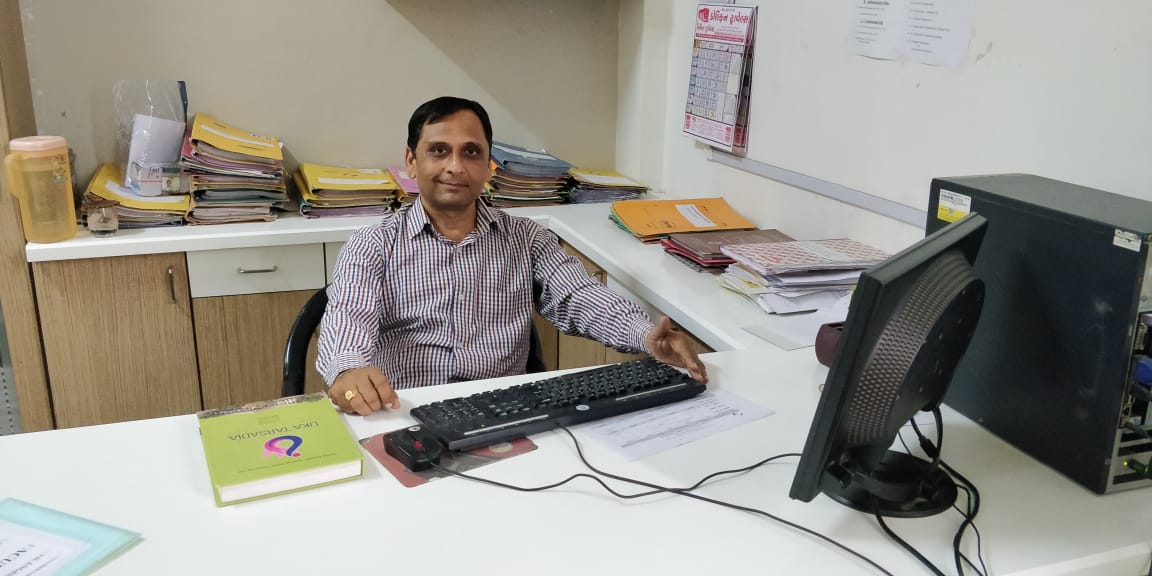 Message for Students
---
Dear Students,
I take the privilege to welcome you all to the Department of Civil Engineering. The department of Civil Engineering at C. G. Patel Institute of Technology has an excellent infrastructure and state-of-art labs with a teaching faculty of the best kind ensuring quality education. The aim of the department is to impart the students a sound knowledge of the theory of civil engineering subjects with exposure to practical knowledge through laboratories and field study.
Civil engineering is the second-oldest engineering discipline after military engineering and it is a professional engineering discipline that deals with the design, construction and maintenance of physically built works like roads, bridges, canals, dams and buildings.There are many career paths for civil engineers. Civil engineers are essential in government agencies, private and public sector undertakings to take up various mega projects like metro railway projects, express highway corridors, industrial structures, reservoir projects, flyovers, townships and mega city projects. Today, the world is undergoing vast changes in technological revolution, population growth and environmental concerns. All these changes create unique challenges for civil engineers.
The program through its activities is committed to ensuring that our students are ready to meet the different challenges of tomorrow!
B.Tech Civil Engineering
---
After successful completion of programme graduate will able to:
1. PSO1: Carryout surveying, prepare layout plans, maps for projects and alignments for roads, railways, bridges and canals.
2. PSO2: Stipulate, analyze, design, estimate and supervise construction activities such as, test and evaluate foundations and superstructures for buildings, industries, irrigation and hydraulic structures, highways, railways, airports, docks and harbours.
3. PSO3: Identify the impact of water, air and noise pollution; the methods of waste collection, disposal and processing; specify, design and analyze water supply system, sewerage and industrial effluent conveying and treatment systems.