About the Department
---
The department is one of the pioneering departments since the commencement of the college in 2009. The department has qualified faculty members engaged in teaching with the aim of achieving excellence in various fields. The faculty members are specialized in different disciplines of Civil Engineering. The vision of this department is to shape infrastructure development with social focus. The mission of the department is to
Developing Professional Civil Engineers
Offering Continuing Education
Interacting with Industry with emphasis on R&D
The department offers the Diploma in Civil Engineering, Under Graduate course in Civil Engineering and Post Graduate program in Structural Engineering. At postgraduate level, it independently conducts M.Tech. course in Structural Engineering approved by AICTE. The department has 1 Associate Professor 31 Assistant Professors and 3 teaching assistant. The department has well equipped laboratories:
Geotechnical Engineering Laboratory
Mechanics of solid and Material Testing Laboratory
Concrete Technology Laboratory
Highway Engineering Laboratory
Environmental Engineering Laboratory.
The department has been a pioneer and leader to carry out testing and challenging consultancy work in the fields of Geotechnical and structural engineering. The soil exploration techniques, bearing capacity predictions, structural engineering strength assessments are conducted in testing work approved by All India Council of Technical Education and Nuclear Power Corporation of India Ltd.
The department presents a picture of a small but fully dedicated and developed faculty contributing to all round growth of students, Institute, Industries and Society.
The graduates coming out from the Institute are well prepared with knowledge and technical information, refined with professional touch, are capable of undertaking the Civil Engineering jobs to meet the challenges of the 21st Century.
Head of Department
---
Dr. Manoj Gundalia
HoD, Civil Department, CGPIT.
+91-9909461142
manoj.gundalia@utu.ac.in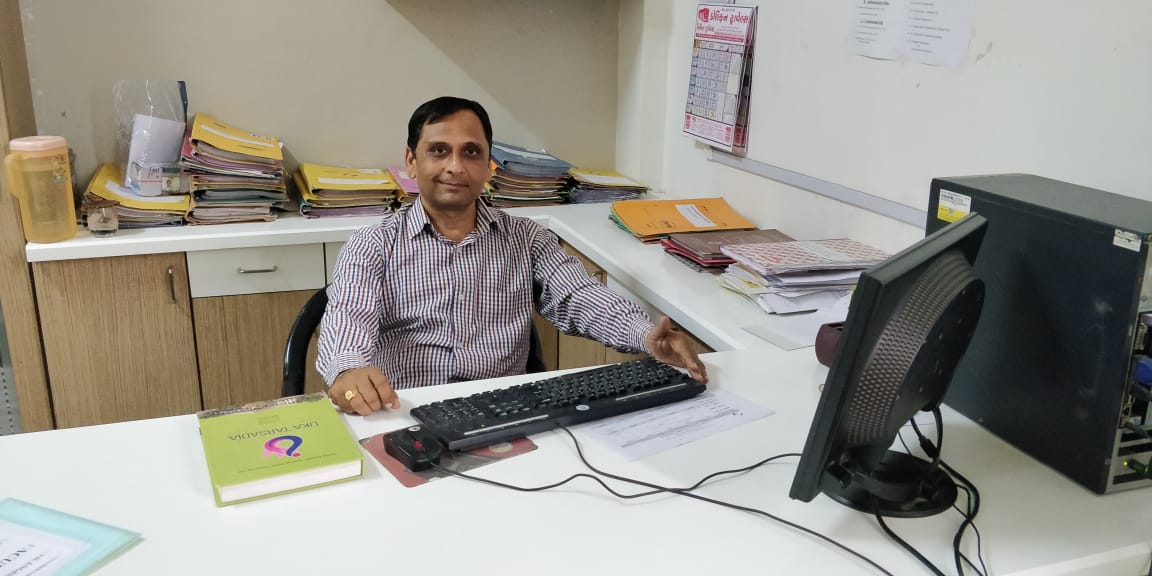 Message for Students
---
Dear Students,
I take the privilege to welcome you all to the Department of Civil Engineering. The department of Civil Engineering at C. G. Patel Institute of Technology has an excellent infrastructure and state-of-art labs with a teaching faculty of the best kind ensuring quality education. The aim of the department is to impart the students a sound knowledge of the theory of civil engineering subjects with exposure to practical knowledge through laboratories and field study.
Civil engineering is the second-oldest engineering discipline after military engineering and it is a professional engineering discipline that deals with the design, construction and maintenance of physically built works like roads, bridges, canals, dams and buildings.There are many career paths for civil engineers. Civil engineers are essential in government agencies, private and public sector undertakings to take up various mega projects like metro railway projects, express highway corridors, industrial structures, reservoir projects, flyovers, townships and mega city projects. Today, the world is undergoing vast changes in technological revolution, population growth and environmental concerns. All these changes create unique challenges for civil engineers.
The program through its activities is committed to ensuring that our students are ready to meet the different challenges of tomorrow!
M.Tech Structural Engineering
---
At the end of this programme, Post Graduates will be able to:
1. PSO1: Thorough knowledge in Structural Engineering to evaluate, analyse and design of any type of structures.
2. PSO2: Leaning towards research of new methods of design and construction using innovative materials.
3. PSO3: To create, select, learn and apply appropriate computational tools, techniques, resources, modern engineering and structural analysis and design software for prediction and modelling of complex engineering activities with an understanding of their limitation
Diploma Environmental Engineering
---
After successful completion of programme student will able to:
1. PSO 1: Apply knowledge of mathematics, science, and engineering
2. PSO 2: Function on multi-disciplinary teams.
3. PSO 3: Ability to identify, formulate, and solve engineering problems
4. PSO 4: Understand of professional and ethical responsibility
5. PSO 5: Use the techniques, skills, and modern engineering tools necessary for engineering practice
Diploma Civil Engineering
---
After successful completion of programme student will able to:
1. PSO 1: To plan, design, construct and maintain civil engineering structures and buildings. Also supervise and manage civil engineering project related activities /practices/ resources effectively.
2. PSO 2: To collect samples, conduct experiments / tests and report results pertaining to civil engineering for execution of quality work.
3. PSO 3: Apply standard code of practices, by-laws, regulations, norms etc for planning and designing of buildings and projects.
B.Tech Civil Engineering
---
After successful completion of programme graduate will able to:
1. PSO1: To carryout surveying, prepare layout plans, maps for projects and alignments for roads, railways, bridges and canals.
2. PSO2: To stipulate, analyze, design, estimate and supervise construction activities such as, test and evaluate foundations and superstructures for buildings, industries, irrigation and hydraulic structures, highways, railways, airports, docks and harbours.
PSO3: To identify the impact of water, air and noise pollution; the methods of waste collection, disposal and processing; specify, design and analyze water supply system, sewerage and industrial effluent conveying and treatment systems.